PowerBall Lotto Numbers Help:
Program_OS_Support:
Windows; 10x86, 10x64, 8.1 x86 8.1 x64,
8 x86, 8 x64, 7 x86, 7 x64, Vista, XP

You must register the PowerBall Generator!
Once registered, you will be able to drag and place the Gadget anywhere on your Windows DeskTop.
It's simple to use, simply click the "Roll Now" Button and our DeskTop PowerBall Lotto Generator will generate
Five (5) totally random numbers in the range 0f 1 - 69 & the PB Number in the range of 1 - 26.

Our Software comes with a Digitally Signed Windows Installer and our Software Program is
Digitally Signed for your protection; Ensures authenticity.
Assures that you the user know the publisher of this software which is Hughes Technologies, Inc.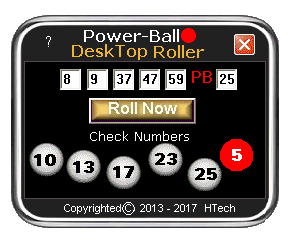 Our Lotto Generator can be uninstalled at anytime by selecting
the program "DeskTop Power-Ball" from Windows Control Panel.
When our Engineers were designing this generator, they actually rolled all
six (6) numbers of a past drawing!